Smartstation, "A great fit" at HPS Signs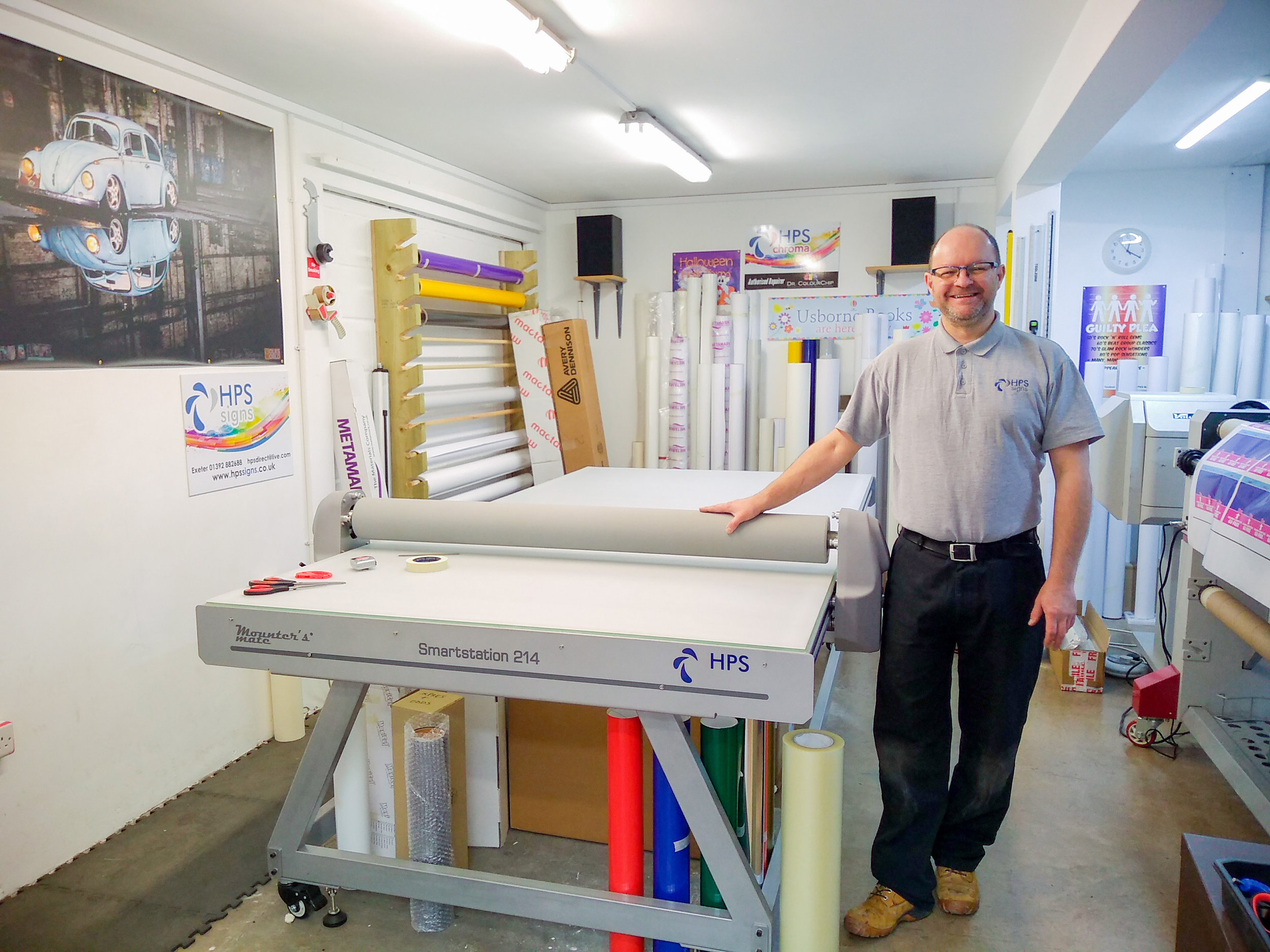 "It's allowed me to take on jobs I probably would have had to turn away before." Mark Andrews, owner of HPS Signs in Exeter, is enthusiastic about his Mounter's Mate Smartstation flatbed mounting table. "It just allows you to say 'yes I can do that,' rather than not being sure, or it taking twice as long!"
Smartstation is a brand new product from Mounter's Mate, aimed at small businesses like HPS Signs, where space may be limited and budgets are tight.
Mark set up HPS Signs a few years ago, having started out printing in-store signage and POS materials for a pet food shop that he had a share in. HPS Signs got its name from the original business, Heart Pet Supplies. He already understood the graphics side from his previous years of in the car repair business, where bodywork often needed the re-application of coach lines and other graphics.
As the print business grew, Mark left the pet shop to concentrate on it, running everything himself from a small industrial unit. He offers signage, vehicle graphics and wraps, labels and decals, mostly on self-adhesive vinyl.
A lot of the customers are local, within a few miles, but he has a growing business printing pet food labels on clear vinyl.
All printed work goes on a 1.6m Mutoh ValueJet 1624 eco-solvent inkjet printer and cut on a similarly sized Summa cutter. Self-coloured vinyl is also cut and applied. There's a laminator for work that needs it.
Mark's Mounter's Mate Smartstation arrived in October 2018. "I initially found it on Facebook," he says. "I was familiar with the brand already because had done some research, looking into models and other manufacturers. I knew I needed one, but nobody else was ticking the box in terms of budget and something that would fit into the room. I saw the FaceBook advert for the Smartstation in September, when it hadn't been out long. That led me to their website and I put in a customer request. Craig Morel from Mounter's Mate phoned me the next day and within two weeks I was up at their place having a look at it."
When it arrived, it was obvious that the compact size thanks to the collapsible framework was really necessary. "It just fit, but I had to take some doors off," Mark says. "I might be able to fit a larger table in, but it would mean rearranging the walls."
He uses the Smartstation for mounting self-adhesive to all types of rigid boards, such as Foamex, aluminium composite materials or Correx. He also uses it with application tape, to position cut out lettering and decals for transfer to a vehicle or other final surface: "The Smartstation has been an absolute godsend for application tape. It's proved its worth for that alone," Mark says. "There's a knack to doing it by hand, but you don't get the consistency that you have when you've got the flatbed applicator. Or the speed."
With space at a premium, he appreciates its versatility too: "If I'm not using the roller it is in constant use as my main work bench."
Having the Smartstation has allowed Mark to take on more work, he says. "Within its first week I had two jobs that came to me at the same time," he recalls. "One was from an existing customer and one was from somebody completely new. Previously I would have taken on one of the jobs, but if the second one had come along I just wouldn't have had the time or the wherewithal to do it. With the Smartstation, within the first week or 10 days I'd probably mounted about 120 boards, which would never have happened manually. Within the first month I had done more boards than I'd done in the rest of the year!"
About the Mounter's Mate Smartstation
The Mounter's Mate Smartstation is an affordable but high quality flatbed applicator, intended for small graphic and signage specialists. It offers the same high build quality as the original Mounter's Mate Workstation, but in a compact and lower-cost package. Its powder-coated aluminium framework is collapsible while caster wheels also help to fit it into tight spaces during installation.
The 2,850 x 1,450 mm bed is made from tough 10 mm tempered glass that's perfectly smooth and flat, and is supplied with a 5 mm cutting mat so it can double up as a user's main worktable when mounting isn't being done. The 130 mm diameter silicon covered roller has a pneumatic lift/lower system with pressure control and a silent compressor which is included as standard.